Difference Between USA & UK Casino Laws
When most people think of gambling in the United States, they automatically think of Las Vegas or some of the other big casino establishments. In this oldcampcasino.com article, we want to focus on online gambling more so than land based casinos and take a look at the differences between USA and UK gambling laws to help you make a better decisions when it comes to playing your favorite casino games for real money.
USA Online Gambling Laws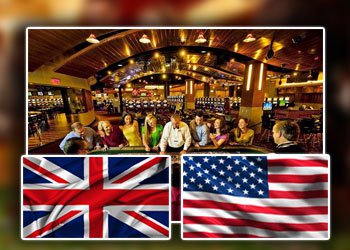 Despite the fact that gambling in the United States gets a lot of attention, when it comes to online gambling and the legal side of things, this get a little messy. The gambling regulations are unclear and this makes it hard to know where you stand. US states are allowed to make the decision on whether or not to legalize online gambling, but then you have the federal laws which actually forbid it. On top of this, you have the tribal casino in Oregon and elsewhere, which can't be touched by the state laws or the government because they are on Native American reservation land. So as you can see, it really is a grey area.
Playing casino games at online casinos on sites that are located in the US, or placing bets on sporting events is illegal, but if you place wagers yourself over the internet it is legal. It can be slightly confusing but it is important that you make sure you check the laws in your state before signing up for a real money account. States like New Jersey and Delaware do allow legal online gambling and have their own online casinos and these should be your preferred choice is you live in these states.
USA online gambling laws have changed over the years in 2006 the Unlawful Internet Gambling Enforcement Act (UIGEA) was passed. This didn't make online gambling illegal as such, but it did make it illegal for banks and other financial institutions to process transactions relating to gambling websites. What this did was make it very difficult for US residents to make deposits and withdraw their casino winnings.
The UIGEA did however exclude a number of markets from the bill including fantasy sports betting and a number of skill games. It also excludes any existing legal intrastate and inter-tribal gaming markets.
There are several online casinos that still accept players from the United States, but it is important that you check first before signing up with any online casino. It is also important to note that a lot of these websites might be in unregulated jurisdictions and be included on rogue casino lists, so again proceed with caution and do your research first.
Gambling Laws in the UK
Online gambling in the UK is very different and there are lots of online casinos to choose from. They also have the most competitive market in the world with better choice and conditions for players.
Online gambling in the United Kingdom is legal and regulated by the UK Gambling Commission and adheres to the Gambling Act of 2005. It is easy to spot legal online casinos in the UK as they all have the seal of the UK Gambling Commission and this guarantees the that casino operator is legal and regulated. Go to this website for reviews on the best legal online casinos and get the best free poker bonuses. You do need to make sure that you are 18 years or over to play at online casinos. The only downside for casino operators tends to be the high tax rates, but the market is regulated and for casino players this is what's most important.
A Huge Difference
The big differences between UK and USA online casinos is that there is a lot more choice for players. Ease of access is another major difference. Online gambling is legal in the UK provided that the casino operator holds a UK Gambling Commission license.
There is also a big difference when it comes to games and software providers. A lot of the top name software providers like Microgaming and Playtech aren't available at USA casinos and this means huge progressive jackpot slots like Mega Moolah can't be played. Players can now enjoy NetEnt games though after NetEnt signed a licensing deal with the Tropicana casino in New Jersey.
There are lots of great bonuses like no deposit casino codes to try real money games for free, and welcome promotions to enjoy at online casinos and UK and Australian players have plenty to choose from. They have all the top casino games including a much bigger range of slots, roulette, blackjack, video poker, and more. On top of this, all the regulated online casinos offer excellent customer support and a massive range of payment methods.
Whatever your casino game preferences, if you're in Canada or the UK you have a great deal of choice compared to US residents. Canadian players can legally enjoy international gambling sites for real money once the site allows them to sign up for an account. You can play for free or for real money and there are plenty of generous bonuses to get you started as well. Most importantly though, you'll know that these sites are 100% legal, licensed and regulated and all the games are proven fair too. You get to enjoy the most popular games from top software providers like Microgaming, Playtech, IGT, NetEnt, and more, and you can make deposits and withdrawals to and from your bank account with ease. Casino offers like no deposit bonuses, free spins, cash back, and other great promotions are all available and many sites even have payment methods offers too. All in all, when you compare USA casinos and UK casinos you really do have a lot more to choose from.