The Chinook Winds Casino By The Ocean In Oregon - The Place To Be!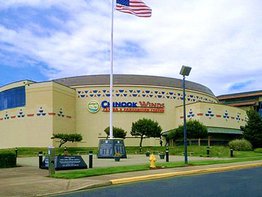 For the casino players at OldCampCasino looking for a Northwest break to remember they need look no further than to Lincoln City Oregon. Yes it may seem a bit of a ways to go, but for somewhere really memorable, it's all part of the adventure. Certainly a visit to the Chinook Winds Casino, is an exceptionally exciting tribal casino in Oregon, once the location by the ocean has fully been embodied and fully sunken in.
The accommodation on offer is at the luxurious Chinook Winds Hotel. Here is a 240 room beach front hotel operated and owned by the Confederated Tribes of Siletz Indians, with the Chinook Winds Casino, a complimentary shuttle bus ride away.
There are 61, Junior Suites fully inclusive of fireplace, there is an indoor golf simulator, golf course, fitness center, sauna, spa and heated indoor pool, all to be enjoyed at leisure.
Having selected one of the preferred rooms from the choice of Single Queen Compact Casino View, King Deluxe Oceanfront or Double Queen Deluxe Oceanfront, one will want to familiarize themselves with the choice of dining available.
For those wanting an oceanfront view whilst having lunch or dinner The Rogue River Steakhouse, is open from 11:00 am - 10:00pm Monday through Sunday. The choice may be buffet style, where the Siletz Bay Buffet is close to hand or maybe just a small meal or snack, available any time day or night from the Euchre Creek Deli.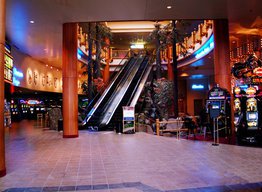 These are 3 of the choices available. There's also the Aces Sports Bar & Grill, and the Chinook Seafood Grill. Open for the diner for Breakfast Lunch or Dinner time.
The Chinook Winds Casino operates 365 days a year 24 hours a day, and between two floors has a gaming area of 157,000 square feet. As well as a wide range of slots and video poker machines, feel free to enter and enjoy the live action at the gaming tables.
There is Single Deck Blackjack paying 3:2, Mult-deck Blackjack, War Blackjack, Roulette, Ultimate Texas Hold'em, Craps, Let It Ride Bonus, Poker, Three Card Poker, and Fortune Pai-Gow.
There are a total of 22 different table games to be played. Betting limits start at $5 and non-smoking tables are also offered inclusive of full beverage service. Could the Chinook Winds Casino offer better games than Seven Feathers Casino? Try it and see, one can only judge for themselves!